IVY MAISON MustUp New Bella Cream
Volufiline™ plus+
Make chest skin smooth, compact & plump. Natural herb extract provides plenty of nutrients for the breasts.
WORLD WIDE FAMOUS!!  MustUp New Bella Cream : MILLIONS SALES NO.1 TOP SELL CREAM. MustUp New Bella Cream GREAT EFFECTS to PLUMP-UP : Volufiline™, Kigelia Africane Extract, Pueraria Lobata Root Extract, Dimethicone copolyol isostearate, Carica Papaya Fruit Extract.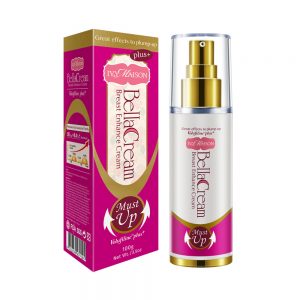 21 DAYS BREAST FIRMING THERAPY BY USING TWICE a DAY @ MORNING & AFTER SHOWER!
Must Up New Bella Cream Main Function:
After wiping MustUp New Bella Cream in the chest for the first time and gently rubbing for 5 minutes, the skin will feel firmer and warmer. After 28 days of continuous use, there will be a practical increase of about 6.6%. Cup A (about 300 c.c ) Of women, after 360 days of use, the average volume will increase by about 81 c.c. each side, the effect is quite significant.
MustUp New Bella Cream contains the precious patent formula "Volufiline™" which comes from the French pharmaceutical company "Serderma". The "Volufiline™" patent formula has actual used of the users of 56 days to help chest enhancement naturally and increase breast fat growth by 8.4%, increase breast 81 c.c. fat.
African Kigelia Fruit which is recommend by the celebrities contains high levels of plant estrogen, a very effective component of the chest tighten, and experiment was tested by 26 women. After 21 days of conditioning, the breast was raised by 15 degrees effectively, increasing the water absorption of the chest collagen effectively by 1.8 times.
Compact formula "Pure-CY™", three exclusive precious elements.
Ultra-delicate natural plant extracts cream,  activation blood circulation to the breast, rise temperature  about 0.5-1 degrees and stimulate breast growth.
5 MINS STEPS !!
MustUp New Bella Cream : Twice a day and avoid the nipples. Massage and press on certain acupuncture points by our special tips for best results.